PROTECT YOUR BACK AND NECK WHILE WORKING WITH YOUR LAPTOP FROM EVERYWHERE. GET THE PERFECT POSITIONING WHETHER YOU ARE LYING DOWN, SITTING OR IN ANY POSITION YOU PREFER.
BENEFITS OF FLEXIBLE COMFORT SOLUTIONS LAPTOP STAND
Improves Posture through ergonomic sitting position
Adjustable settings for different heights and angles
Air holes provide strong and quiet ventilation of the device
Can be used in bed, sofa, table, carpet, desc, etc
Made from Aluminium Alloy, ultra-light and strong
Each folding leg has 3 knobs which can adjust at any height and angle you need
360 DEGREE ADJUSTABLE – Each folding leg has 3 knobs that can adjust and lock in any height and angle you need. The 360-degree valve provides high flexibility just as humans.
COOLING FUNCTION – With Ventilation holes which provide strong air flow to dissipate the heat from bottom of your notebook. Not only a table but also a cooler.
HIGH-QUALITY MATERIAL – Made by Aluminum Alloy – Ultra Light and Strong
ERGONOMIC DESIGN – Sitting at your desk all day can be a strain on your body. This tray allows you to easily switch between standing and sitting in just seconds providing relief from strained backs, improved circulation and better posture.
MULTIFUNCTIONAL – The Laptop Desk can be used as Standing Desk, Book Tray, Writing Desk, Tablet Holder, Stand-Up Desk, Gaming Table, Notebook Stand, Keyboard Lift, Laptop Tray, Keyboard Riser, Foldable Laptop Desk, Cooling Pad, Computer Stand for Laptop, Folding Tray Table, Standing Desk Converter, Laptop Base, Ergonomic Laptop Riser, Desk Raiser, Laptop Holder or however you wish to use it!
Air holes provide strong and quiet ventilation of the device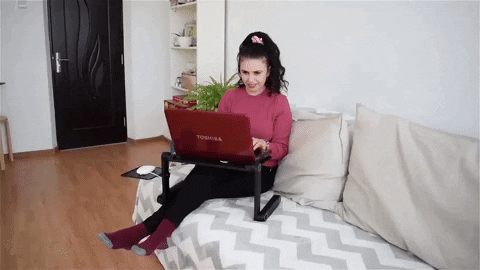 Say goodbye to neck and back pain from working on your laptop. This fully adjustable laptop desk can be folded flat for easy storage and enables you to use your computer at the most comfortable position, benefits your health and make you free from neck and shoulder pain.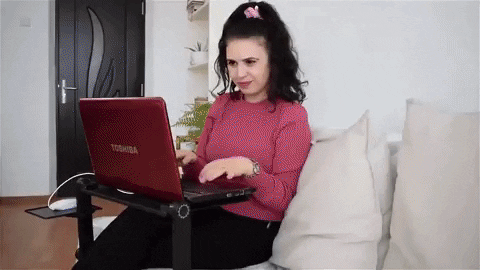 SPECIFICATIONS:
Material: Aluminum, Plastic
Folded Dimension: 20.6 x 10.4 x 2in
Folding angle range: 0~360 deg
A second locking rotation of 360 degrees, convenient using gear design, and with the exact scale, can easily be precise angle adjustment and height adjustment.
METHOD OF USE:
Press and hold the button on top of the joints, can adjust the support and height, the button is loosened, the automatic fixed joint.
PACKAGE CONTENTS:
1 x Portable Laptop Stand
1 x A Mountable Mouse Tray
1 x An Instruction Manual
2 x Black Non-Slip Baffle