Do you have any outdated or out-of-fitting clothes that you don't know how to deal with? In fact, these are not difficult things for "remodeling people" who are keen on DIY small objects. Everyone has a "tailor" in their hearts. You only need a home sewing machine, and you can achieve your dreams with ingenuity.
This mini sewing machine has a needle guard for safety, making it a great first machine for young learners. And this Sewing Machine is compact, portable, and ideal for all your sewing needs.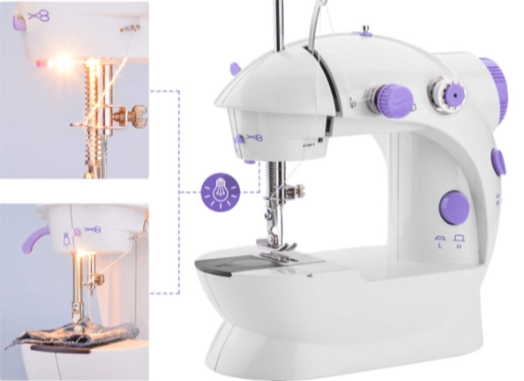 Key Features
Comes pre-threaded and ready to use
Sews in a durable chain locking stitch
Mini size, light and with good space for guiding sewing cloth by hand
Power alloy gears inside to guarantee long time use
Comes with pedal for easy foot control
AC/DC operation requires 4 AA batteries (not included)
Comes with two-speed control
The light in the sewing machine head can illuminate your sewing when more light is needed.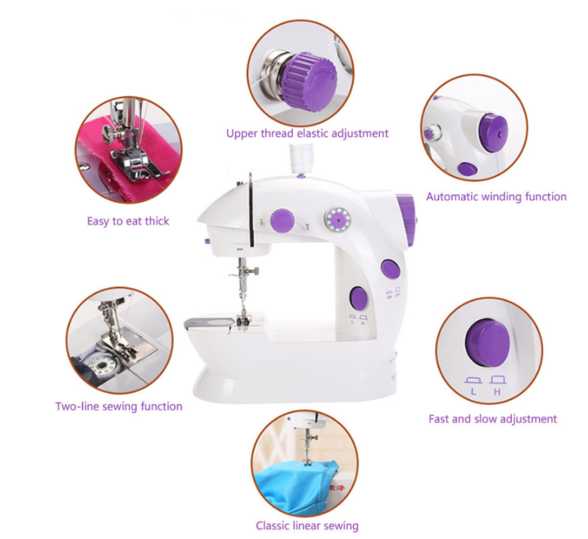 PERFECT FOR ANY MATERIALS: Great for silks, denim, wool, leather, Hem pants, jeans, hanging curtains and crafts, etc. It can repair drapes without taking them down ,repair clothing without taking it off; and repair beding without stripping the bed and so on. You can use it to sew hanging curtains as well.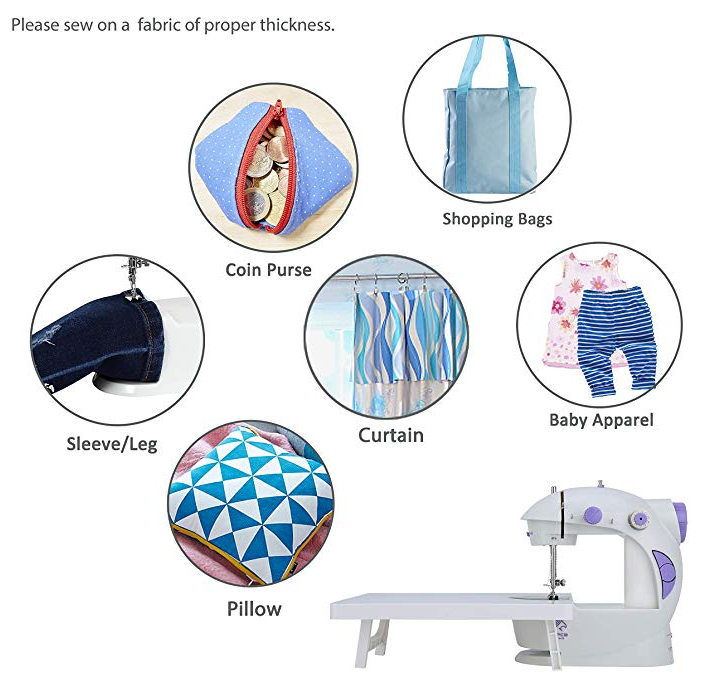 Do your own sewing, change clothes, make dolls, sew bags … start from the most basic cutting and sewing technology, to try the complex functions of multifunctional household sewing machines, a multi-functional sewing machine, some fabrics, a few tools, creative ideas Extending in everyone's hands, like magical magic, at the fingertips, it shows DIY's fashion, creativity, and spirituality, and staged a gorgeous sewing show.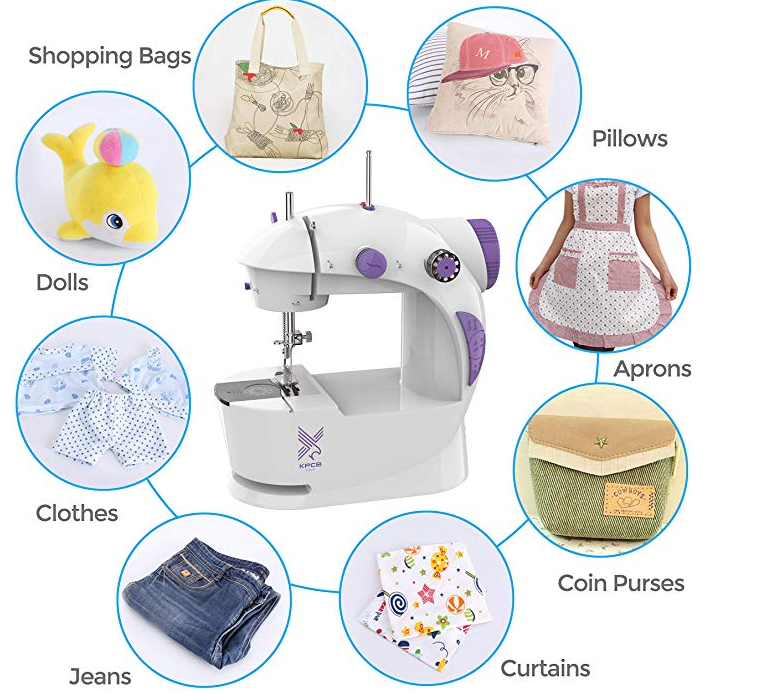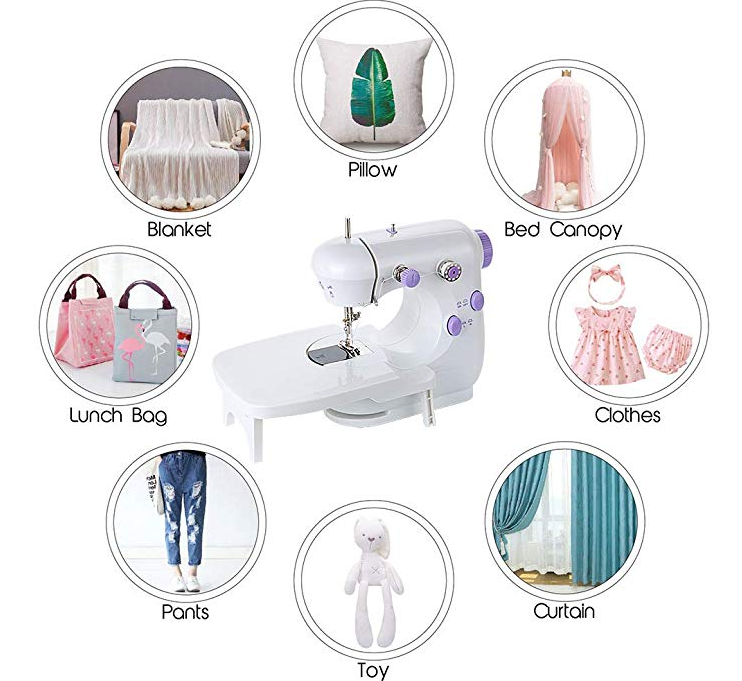 PRODUCT SPECIFICATION
Color: White
Material: ABS
Power Adapter: AC100-240V
Batteries : 4 x 1.5V AA Batteries(not included)
Item Size : 17.5cm x 9cm x 22cm / 6.89in x 3.54in x 8.66in
Item Weight: 950g
Plug Type: the US, EU Plug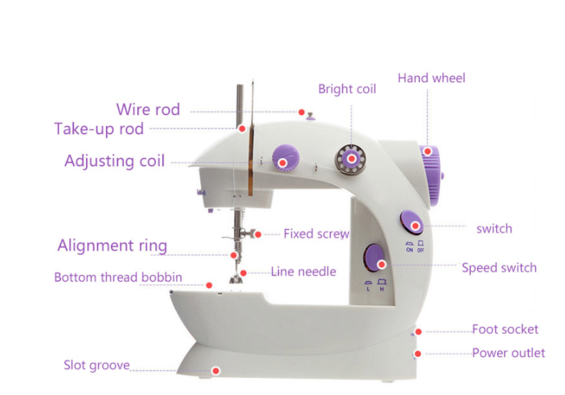 For consumers with different basic skills, flat stitching, concealed stitching, zigzag stitching, a button fastening, keyholes, hemming, etc. can meet the basic needs of beginners, and various special presser feet are the secrets of senior people's modification " arms"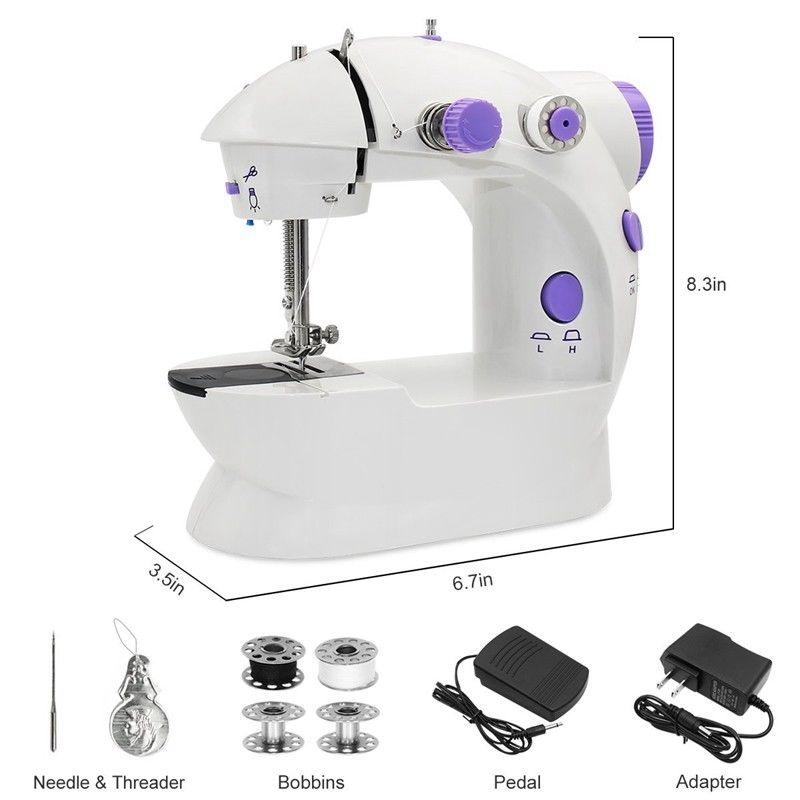 PACKAGE INCLUDES :
1 x Sewing Machine
1 x Foot Pedal
1 x Power Adapter
1 x Threader
1 x Needle
6 x Line shuttle
1 x User Manual(English)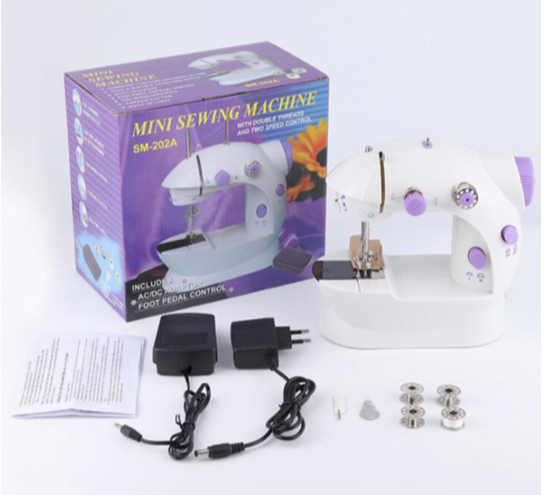 FIT FOR BEGINNER OR MASTER: It's a simple, convenient handheld sewing machine, easy to use and carry, fit for beginner or master in sewing. The portable sewing machine can develop children's work habits and train sewing skills. Ideal gift for your friends who are interested in DIY Great Crafts.